Ο ευρωβουλευτής Στέλιος Κούλογλου και η GUE/NGL διοργανώνουν ομιλία για τους κινδύνους του διαδικτύου και το μονοπώλιο των ιντερνετικών κολοσσών, όσον αφορά τα μέσα κοινωνικής δικτύωσης.
Θα συζητηθούν θέματα όπως η ανάλυση δεδομένων, η ψηφιακή ανισότητα καθώς και η ρητορική μίσους. Ποιες είναι οι εναλλακτικές σε Facebook, Google και Twitter;
---
FACEBOOK & OTHER SOCIAL DANGERS
The political, social and financial impact of the big Internet Monopolies
Πέμπτη 8 Νοεμβρίου 2018
Ώρα: 9.30 – 13.00
Ευρωπαϊκό Κοινοβούλιο – Αίθουσα ASP, 1G2
Θα υπάρχει ταυτόχρονη διερμηνεία σε Αγγλικά, Ελληνικά, Γερμανικά, Γαλλικά.
Παρακαλείστε να δηλώσετε συμμετοχή, εδώ.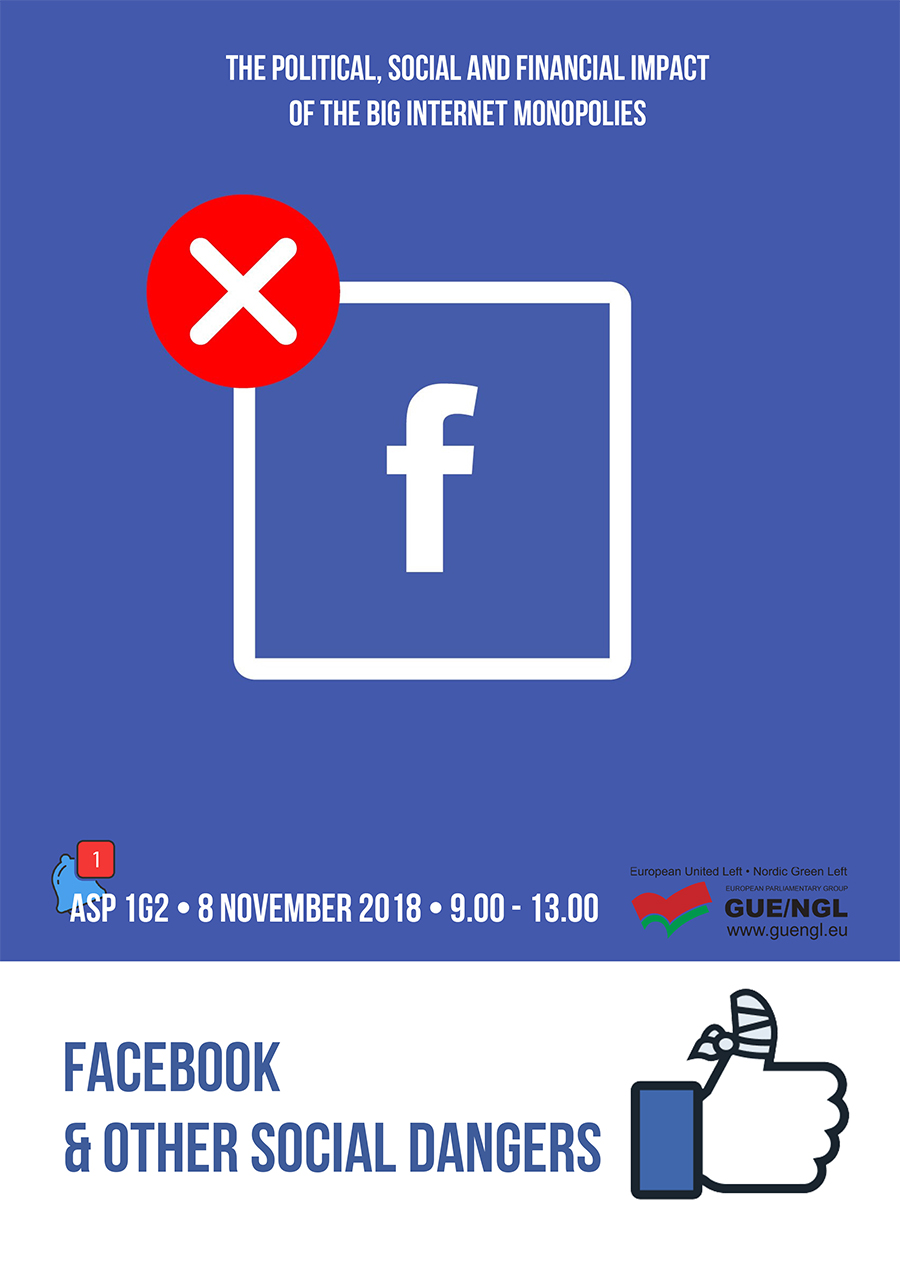 Αναλυτικά το πρόγραμμα της εκδήλωσης
09.00 – 09.30  Arrival and Registrations
PANEL I 
09.30 – 10.30  "Big Brother Facebook is watching you"
Welcome by KOULOGLOU Stelios, MEP GUE/NGL
SNOWDEN Edward, NSA/CIA Whistleblower, Skype Connection (tbc)
COTE Mark, Senior Lecturer in Data, Culture and Society, King's College London
PYBUS Jennifer, Lecturer in Digital Culture, King's College London
PANEL II
10.30 – 11.30  "Big Data, Digital Inequality and Hate Speech"
Moderation by ERNST Cornelia , MEP GUE/NGL
PAPADAKIS Foivos, Researcher and PhD student, King's College, London
PAPAEVANGELOU Dimitris, Ιndependent researcher / software engineer focusing on disinformation, creator of plagiarism, Greece
Representative, Chaos Computer Lab, Germany (tbc)
KARAGIANNI Anastasia, Digital Rights and Child Protection Specialist, Homo Digitalis, Brussels
PANEL III
11.30 – 12.30  Are There Any Alternatives to Facebook, Google and Twitter?
Manal -ALSHARIF, co-founder and leader of the #Women2Drive movement and founder and CEO of Women2Hack Academy, Video Message
NARANJO Diego, Senior Policy Advisor, European Digital Rights (EDRI), Belgium
COX Leonard, Vice-president Public Affairs & CSR, QWANT Platform, France
MEHRABYAN Lusine, Community Manager, FACTMATA, UK
12.30 – 13.00     Discussion – Q&A